Mittens
We're proud to offer these great Wisconsin-made, strong, stylish, comfortable, and warm mittens from Tami's Treasures!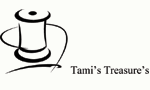 Tami's Treasures mittens are handmade with care, using only high-grade wools with soft felt linings for maximum comfort. They are sturdy, beautiful, and perfect for cold weather.
Buy a pair and find out out why many customers say Tami's mittens are the warmest pair they own!
There are no products listed under this category.